58 days until we come home, 350 since selling up. David Jones recording.
We have arrived in la belle French Polynesia. It is very beautiful and there are real French baguettes and croissants. Food at last! After spending a night in Tahiti we sailed to its little sister Moorea where we enjoyed three days in our beachfront chic shack, with air conditioning and wifi!
We listened to the lap of the sea on the beach and the roar of the mega waves on the reef, which unnervingly seems to get louder at night, not helping my constant vigilance (worry!) about tsunamis. On every one of these islands I plan an escape route in case I see the tide go out.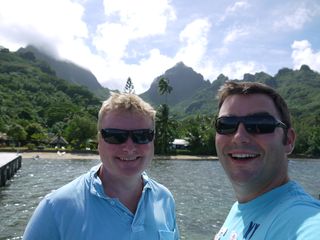 Bonjour from Moorea! (our chic shack is just in between our heads)
We hired a space pod for the day (take a look at it in the album) and had a mad day driving around the island at least twice. We found a Champion supermarket and behaved as if we were in a Hypermarché in Boulogne or Calais at Christmas. We spent the rest of the day looking at picture postcard views. We saw where Captain Cook anchored in 1777, and a good few piles of rocks where Tahitian temples used to be. Today they seem to be inhabited by mosquitoes.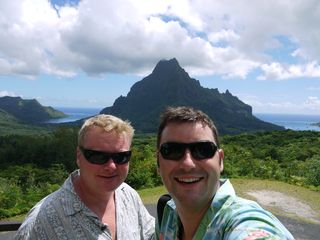 Opunohu Bay to the left and Cook's Bay to the right (he landed in Opunohu Bay - makes sense?!)
On our exploration around the island we saw places to stay that we couldn't afford on our budget, among them the famous Sofitel Moana overwater bungalows which have probably seen many a honeymoon night. Our accommodation however was just as special, particularly when Maurice would wander down the pier carrying his blue plastic bag full of beef (in the immortal words of Ferne Britton he liked dunking a bit a beef!). He was like the Pied Piper of Moorea: everyone jumped to their feet and followed him to the end of the jetty. Once there they gasped with awe as he fed the sharks who always came swimming in half an hour before sunset. Enough to put you off going into the water. Paul assures me they are harmless to humans, but surely they've got a taste for red meat now! Especially red meat pink at the edges because of the sun like me. There's a pic of these beasts in the album.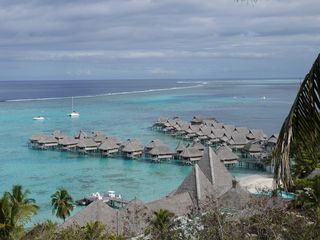 They look nice, but we couldn't afford them... one day Donna!
The sun sets early in the South Seas, but we would spend many an evening playing that famous South Seas game Le Jeu de Polynesie - or as I call it Jeu de Peu de Polyneese. This game is marvellous. It keeps you entertained for hours, and I am the champion: I won every game we played. Oh and did I tell you it's the French Polynesian version of wait for it... Monopoly. But it's not just your ordinary house and hotels, you can get pineapple farms, pearl farms, fishing fleets. And you have to watch out for the weather cards which can send a Tsunami or Cyclone to ruin your fortune. Such fun. I'd like my own copy please Santa.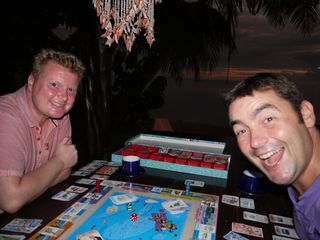 'Jeu de Peu de Polyneese'
We have now left Moorea and are bracing ourselves for a desert island experience, staying with the Domingo family on the isolated island of Maupiti, where the plane only flies in every five days. Maybe it's like Fantasy Island! Let's hope it's my fantasy. We'll let you know when we get online again, no wifi in Maupiti. Aere Ra! That's pronounced 'airy rah' (meaning bye, bye) - so 'airy rah'!