Just 4 days until we come home, 1 year, 1 month and 8 days since selling up. David Jones recording.
Bye, bye Oz! We're coming to the end of our journey. We've spent the last ten days exploring tropical Queensland, interspersed with looking at the internet for jobs and looking for a flat to rent when we return. So it's all felt very strange, like the journey has finished already.
Queensland is a strange place anyway. How can I describe it? There's some beautiful scenery, wide open spaces - there are not that many people living up here - but it's strangely dull. But it maybe that our take is coloured by the fact that our minds have already turned homeward. We've gone for walks along the beaches at Palm Cove where we stayed for a week, driven up the coast to Port Douglas and explored the rainforest, finding waterfalls and gorges, but it's like we're suffering from view fatigue. You can have too much scenery...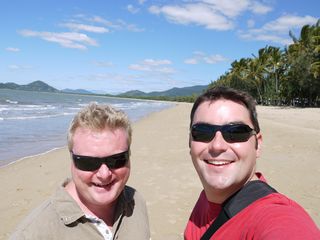 After five weeks in Australia, it's started to have a funny affect on me? Without thinking about it? I can't help speaking without a slight Australian twang? All my sentences sound like questions? Even the shape of my mouth has changed when I make words? It's got so entrenched I can't remember how I am supposed to speak? I hope this will be solved when I get off the plane at Heathrow? But my worry is it'll replaced by a Kent estuary accent? Depends how long we're in Paul's parent's spare room? So if anyone out there is looking for a highly qualified psychosynthesis counsellor with mental health training, drop me a line, quick!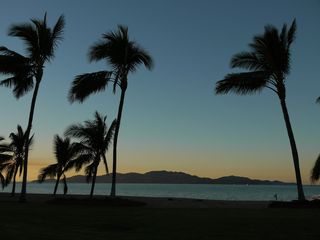 Anyhoo, we've traced our way down the Queensland coast to Airlie Beach via a lovely night in Townsville watching the sun set on Magnetic Island (another thrillingly original name from Captain Cook... his compass broke near it). Airlie Beach is the gateway to the pretty Whitsunday Islands (another Captain Cook stunner, guess when he found these), but as we're out of energy and out of cash we passed on taking a boat or plane trip to see them and were satisfied with some nice views from the coast. Our host reckons the view's just as nice from here anyway.
For those waiting for the famous novel, Agatha's been busy over the last few weeks honing his photography skills (and looking for a job!). So the final draft of the book is still not ready, but 90 per cent complete, he says. We'll all have to wait a bit longer for the masterpiece, it's only been a year, one month and eight days in the making; another few months won't make a difference!
We're flying back to Sydney tomorrow for one mad last night, before starting our journey home via Singapore. Anyhoo, for all those America/UK/Australia next top model fans, here's Paul's best shot, ta ta!