19 days until we're back home, 1 year and 24 days since selling up. Paul Twocock recording.
"Have you ever, ever felt like like this? Have strange things happened? Are you going round the twist?" Remember that? Cracking Aussie kids drama/comedy in the early nineties about the Twist family who live in a lighthouse and have ghostly adventures? If you don't remember it, get on Amazon now, fantastic series... and we've just stayed just up the road from the Round the Twist lighthouse itself. How exciting!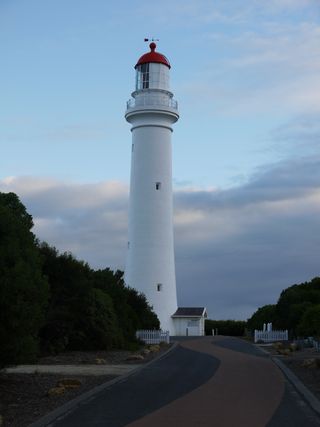 It's called the Split Point lighthouse at Airey's Inlet and it's at the start of one of the world's most amazing ocean-side highways: the Great Ocean Road along Victoria's coast (though I think California's Big Sur just pips it for spectacular views). Not only do you see gorgeous cliffs, hills and pounding waves inland there are waterfalls, koalas and kangaroos. Though our first animal encounters happened right outside our door at our apartment in Airey's Inlet.
As soon as we arrived we were amazed to be greeted by a big cockatoo swooping down and landing on our balcony. We thought it was a fluke... turned around a few minutes later and there were three cockatoos, we couldn't believe our luck. Five minutes later and there were six lined up along the balcony bannister looking at us intently, and then ten. It was like we were in a scene from 'The Birds'. Course it was obvious what they were here for, and David soon became their biggest chum, doling out multi-grain bread and then sunflower seeds supplied by our hosts.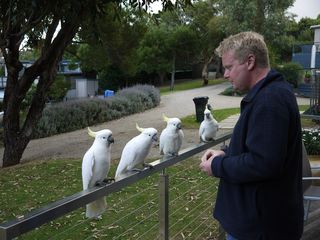 He even attracted some very exotic looking red and green parrots to land on his arm and feed from his hand - a proper Doctor Doolittle. Though you have to be careful; he ignored his cockatoo posse for just a few moments and was rewarded with a sharp nip on his big toe from one frustrated bird. 
Elsewhere along the Ocean Road we had our second encounter with the lovely koala. There's a road inland and up a wooded hill that's famous for its wild koalas, and we weren't disappointed. Usually they are high up in the trees, but we found one hungry little bear sat on a branch right over the middle of the road munching away on his eucalyptus leaves, occasionally having a glance down at us and a little stretch. What a cutie.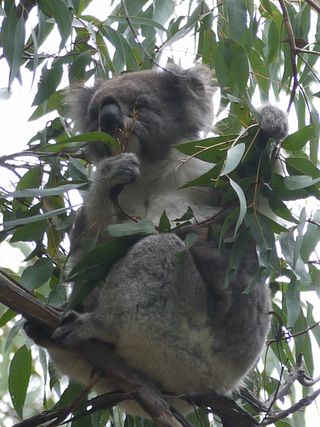 The kangaroos we discovered on a golf course were a little more aloof, hopping around on their own business or lounging by a bunker: see the photos in the album.
When we could tear ourselves away from the animal encounters we spent our time driving along the cliff hugging road to our next base and exploring the national parks. We had forest walks to three fantastic waterfalls - pics in the album - visited the oldest lighthouse in Australia (1848) at Cape Otway, and saw the craggy landscapes that the Great Ocean Road is famous for, including the Twelve Apostles: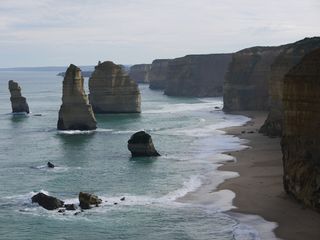 It's a stunning sight. But it's not alone, eroding limestone cliffs line the coast and just up the way from the Twelve Apostles is a very beautiful and sad place. Loch Ard Gorge is the site of one of the many wrecks along the coast. The Loch Ard was cargo ship that set sail from Gravesend (my home town) in 1878 for Melbourne with 36 crew and 18 emigrant passengers. In a storm and poor visibility it foundered on the rocks one day shy of its destination, smashed against the cliffs and only two people survived: the ship's apprentice Tom Pearse and one of the emigrants Eva Carmichael. They were washed up in the gorge, sheltered in a cave until Tom could climb the cliff and get help. There are photos in the album - it's a very serene place now.
After four days exploring the coast we've set course inland and spent today exploring the goldfields of Victoria - site of one of the biggest gold rushes the world has ever seen - in the 1850s. There are lots of small towns with grand buildings built on the profits, and pockets of scarred landscape that show just how voracious the fortune hunters were. I'll leave you with the sun setting over a hollowed out hill that was once stuffed with gold. Farewell for now. Tomorrow we're off to Melbourne and then we fly to the outback for a date with Uluru. The wifi's a bit iffy here so we'll upload the photo album as soon as we can, check back for more photos next week.