46 days until we come home, 362 days since selling up. David Jones recording.
Oh My! They do like to charge you a lot of money in Bora Bora… phew! But don't worry folks hardened travellers like us have our little ways and means of making a 1000 francs go a long way. I can't tell you how many baguette, pate and cheese suppers we've had this week. But we came here to have our one and only experience of living on an overwater bungalow on a blue lagoon and we've done it!
It's been lovely listening to the lapping waves of the lagoon to lull us to sleep (it masked some of the noise from the nearby road!), and waking up to jump off the deck right into the water and snorkel with the fishes and the octopus that lived underneath.
And what a view. We ended up with one directly opposite Tracy Island – our name for the Motu sitting in the lagoon across the way from us. Every day we expected to see a Thunderbird but alas none have launched.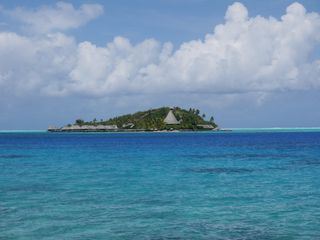 But be warned globetrotters, Bora Bora has been the most built-up and developed of all the south pacific islands we've been to. That means you have some of the modern conveniences like kettles (ooh, how lovely to have cuppa when you want one), TV and restaurants. But that also means people are a bit less friendly and you have more travellers alongside you, so some days the pool at the supposedly five star hotel we stayed at looked a bit like a scene from the comedy 'Benidorm'. Fortunately our bungalow was as far away from the centre of the resort as possible. Hooray!
So our advice is if you have to choose, go to Maupiti – more beautiful, on a smaller scale and a much more calming a place to be: but you won't get a kettle! Hey-ho.
We're off on another little plane tomorrow to our last stop in the South Seas island hop – the isolated coral atoll of Tikehau. We'll tell you all about when we hit civilisation again.