153 days since selling up David Jones and Paul Twocock recording.
After a two hour boat ride from Santorini we arrived at Naxos. Now experts at the Greek ferry experience, we clambered on with the others and left our bags on the car deck, following the dulcit tones of the Blue Star lady calling out "Naxos, Paros" and pointing to the port side. We were treated to another melody when we arrived, as the back of the boat opened about twenty feet away from the dock while the ferry was turning a full circle, the boat sang a Mister Whippy tune to all the eager backpackers - "Der, Do, Der, Do, Der, Doh Der Der Der, Do" a fanfare signalling we'd arrived at Naxos.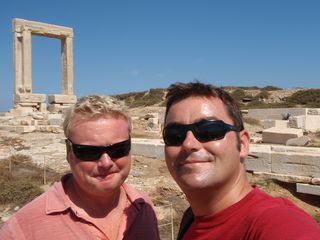 We were greeted with the view of the ruined Temple of Apollo and throngs of people trying to tempt us with rooms and taxis. We weaved through them and went off in search of a hire car instead.
It was here we committed the cardinal travellers' sin when arrived in a strange town, we just got into a car with a complete stranger who said he would would rent us the Fiat Panda he was driving at a good price. All looked promising until he got a phonecall and we were bundled out of the car, bags 'n all, and promised that another one would turn up in five minutes. It only took two and that became our little Naxos runabout!
Naxos turned out to be a beautiful, unspoilt (very few tarmac roads) island with very friendly people including the lovely old greek lady, dressed in black who quietly asked us while waiting for our car if we wouldn't prefer to stay with her in town rather than in the place we booked at Plaka Beach 6km away, "it's so far!". Unable to persuade us she wished us "good holidays".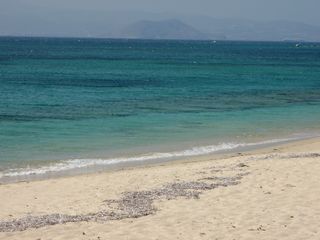 Our first night at Plaka Beach we went to the nearest taverna, and were greeted by Aronis, the owner who looked like an old retired sea dog. He insisted we had the lamb from his own farm in the mountains - a "big plate". Next minute we hear him merrily chopping away in the kitchen with a meat cleaver. Next thing we know the big plates arrived with a bed of chips and a mountain of fatty lamb chops which we then spent the next hour trying to cut through and eat, washed down with penicillin red wine.
Things then started to hot up when more customers arrived. The same ceremonial chopping started up again, but that was topped by his wife, who had been all sweetness and light but suddely flipped, throwing pots and pans at the ninety year old helper in the kitchen. Not wishing to use my mental health skills we decided it was time to retreat to our seaview apartment. Aronis didn't want to let us go just yet, so he gave us another jug of the wine on the house. We drank it and ran.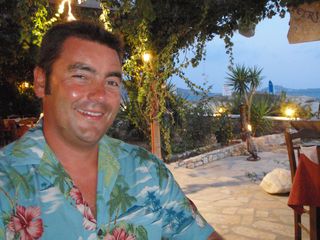 For the rest of our time at Plaka we had to run past Aronis's to get to the nicer taverna a little further up the beach. This was lovely, despite one night having to eat our meal in darkness due to a blackout and fight off the cats who insisted on jumping up onto the table to share our dinner.
They tried puss in boots eyes but we ignored them so they went for drastic measures, and took the opportunity when the lights went out!
All in all we spent a lovely five days, lazing on the beach, driving around the island and Agatha got quite a few chapters written.
Such fun!