276 days since selling up, 132 days until the grand return. Paul Twocock recording.
David's just too tired from walking along miles of beaches, lava-rock coastlines and watching the sunset while scouring the horizon for jumping whales to do the blog tonight, so I'm having a go.
We left concrete jungle of LA for the green shores of Mau'i on 18th Jan. We were returning to an island we know and love. In fact it was on the way back from Mau'i in 2009 that we decided we had to put the house on the market again and get away for a year. And for a treat (well above budget) we returned to Cliff's Edge - a special place on the north shore of the island. You sit on a deck perched on 300 feet cliffs overlooking the Pacific, palm trees sway, all you can hear is the surf crashing and the occasional passing bird, and as showers come and go rainbows arc across the sky.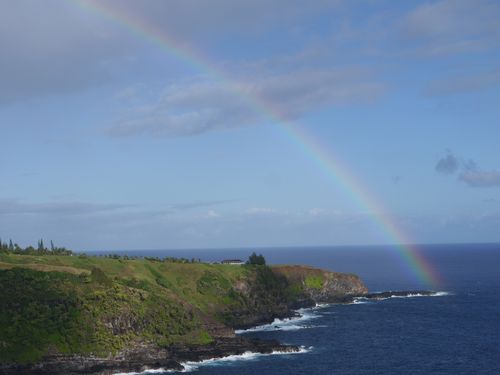 It was just as beautiful as we remembered. The north shore of Mau'i is away from all the hotels and condos. The road winds around high cliff faces, the rainforest and waterfalls reach right to the coast and things move more slowly. We settled into home for a week: relaxed, read books, wrote books (I finished the last chapter of my first draft - hooray - and have now gone back to the beginning to start re-editing the whole thing). The surf started getting high on day two so we cruised down to Hookipa Point where all the surfer dudes of Mau'i hang out the next big one. Sorry Bradley and Hugo - you would love it here.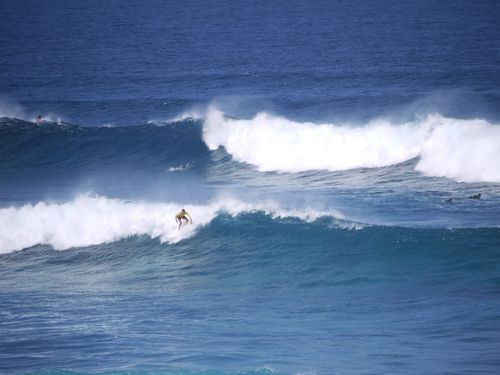 We took a day to drive slowly along the famous road to Hana - the winding road along the north shore - stopping at waterfalls, stunning black sand beaches with lava out-crops covered in palms, lookouts to the ocean and cool ponds surrounded by forest. At the end of the road we rewarded ourselves with a Mahi-mahi sandwich at our favourite (and I think the only) restaurant in the sleepy town of Hana on the far east coast of the island. There are lots of pics of waterfalls and pools in the album, but here's a taster: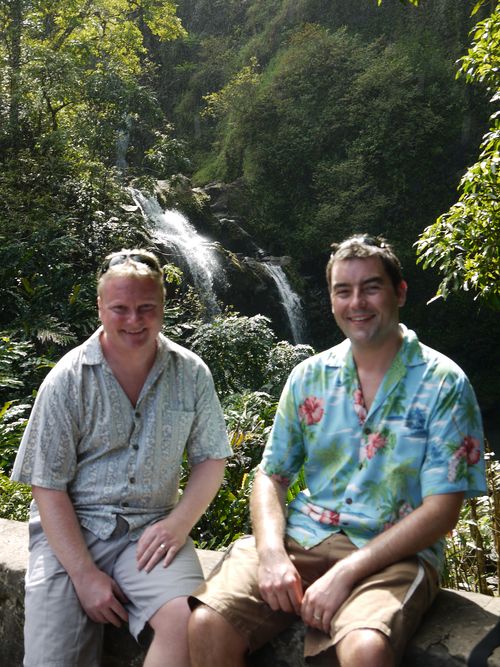 Last time we were at Cliff's Edge we became fast friends with Lucy, a lovely old spaniel who used to insist on sharing our breakfast every morning at 7am sharp. Although still around, Lucy is the grand old age of 17 and has lost her hearing now, so wasn't as sprightly as before. But she did have a new friend, Maile, who seems to have replaced Lucy as the dog entertainment at Cliff's Edge. I know because I have the scratches to prove it. Quietly swimming in the pool one day, 25 lengths done, 25 to go and suddenly when I get to the end there's a big dog waiting to play with me. As I swam she ran around the pool to greet me at each end, and then in a sudden fit of courage launched herself off the side of the pool, right on top of me. Now it was a swimming race and she wanted to swim right up close and personal - her doggy paddle paws digging right in! Then out she'd get out and dive in again. We played for a while but when I could take no more playful scratches I retired back to Bali Cottage. She followed me home and so from then on started joining us for lunch. With such a sad face and mild-mannered patience, she always got her egg mayonnaise or chicken sandwich - I'm sure it can't be good for her...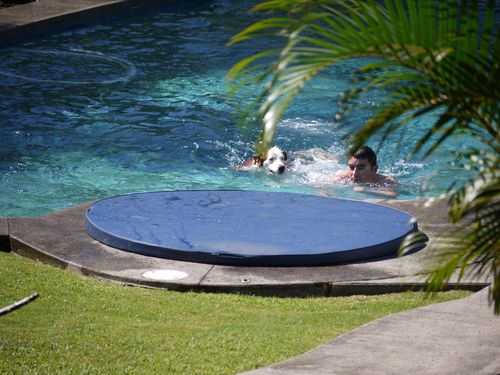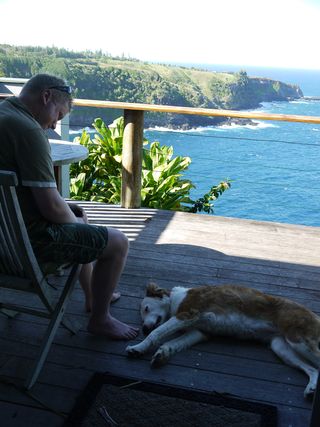 David got his own minor injury later in the week when we made our way to one last waterfall just down the road from us. It was a pleasant twenty minute walk through palm groves and forest to Twin Falls, but what we hadn't counted on was needing to wade through the river to get the best view. Intrepid adventurers that we are, the shoes came off and we were knee deep walking gingerly over round, spiky and slimy stones, but the effort was worth it: it was a lovely clear falls into a pond at the bottom of an eroded lava tube. Looked a bit like a grotto. Although if you look carefully below you can already see in David's eyes that he knew all those little black bruises were forming on the soles of his feet!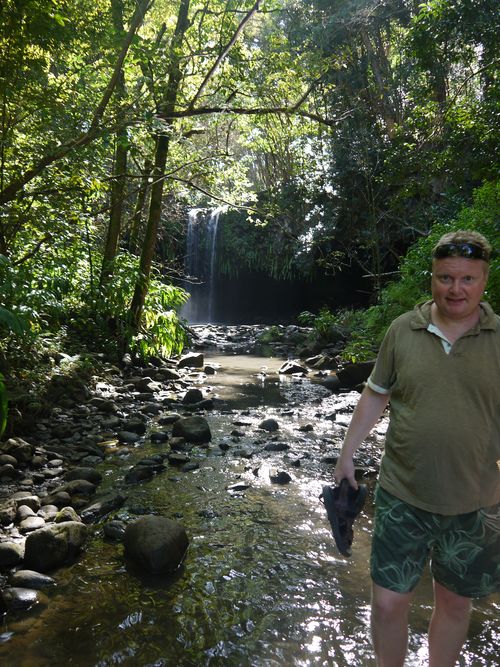 Oh and I forgot to mention we made it up to the top of the volcano - Haleakala - for the most awesome sunset you are ever likely to see. We made it up the crater road with minutes to spare to see the sun dip into the sea of clouds that stretched out below us. Being at the summit makes you feel like your flying. Such fun!