41 days until we come home, 1 year and 2 days since selling up: David Jones recording.
What do you do when you arrive somewhere and you know it's going to be hell? Pack up, get out of there? But what if it's a coral atoll in the middle of the Pacific Ocean and the few flights out every day are full, so you're stuck for four days? Let me tell you what happens... 
As we flew into Tikehau we passed over some lovely looking sandy islands reefed with blue lagoon. Just what you'd expect from a coral atoll. Though we should have know things would go wrong. It was a lot bigger than we expected and the lagoon itself looked a bit choppy from the air, not exactly what the still turquoise bath you imagine on an atoll.
And that was the case. The main island was indeed covered in palm trees, but also liberal amounts of fly-tipping. The fabled white and pink sand of Tikehau was in fact mainly coral shingle. The lagoon looked like Dover port from our shack, slate-blue and rough. And there really wasn't any saving grace. We felt truly stranded.
But our digs made that so much worse. The lagoon-side bungalow, turned out to be a poky, old thatched affair on stilts with the world's most uncomfortable bed (bamboo poles supporting a mattress which sank in despair whenever you got on it), old, dog-eared sheets, frequent bug infestations and water that spurted out in explosions whenever you turned the tap on. At night we had to sleep fully clothed in our anti-mosquito suits to avoid bites of God knows what in the dark. It was like being in 'Ells Bells in Carry on Abroad. And this was for the princely sum of £150 a night including breakfast and dinner.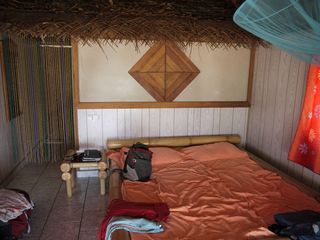 And the food didn't save it. Breakfast mainly consisted of stale bread zapped in the microwave to try to freshen it up and if we were lucky doughnuts or pancakes - the doughnuts were nice but only came on our first morning. Dinner consisted of different ways to cook cheap fish or on one night an ominously titled plate of 'meat' - animal source not specified. Add to that four large French families with noisy kids and you have the recipe for a complete hell hole.
We were very British about it though. Sat on our balcony, Agatha got on with re-writing his book, I played a lot of Tetris, and counted down the days. But they dragged out terribly.
Air Tahiti were unable to offer us a seat out until Thursday when we were already booked to go. On day two we phoned the only hotel in Tikehau the ultra expensive Pearl Resort which sat shimmering like a mirage across the lagoon. We knew it would be too dear but crossed our fingers for a great deal. And they did offer us a reduced price, but still much more expensive than the hell hole. We were sensible and decide to keep buggering on.
But on the morning of our last full day (Wednesday), after a particularly buggy night on the bamboo torture bed and being presented with more stale bread and some claptrap from our host that she had nothing else in the house because the boat hadn't come (the shop which was well stocked sat one minute down the road by car) we finally flipped. We booked a beach bungalow at the Pearl for one night only and walked out of the hell hole for the jetty and our boat to Fantasy Island.
And it really lived up to its name. It was like going from the bad house to the fabulous house on Big Brother. A small island, covered in palms, surrounded by beach and clear turquoise lagoon. A lovely welcome and calm atmosphere you could float on. And when we got to the room we just couldn't contain our excitement.
It was amazing. A huge bungalow with high ceilings. Huge comfortable bed. Sofa, two cushioned sun-beds with a lagoon view on the beach. And the piece de resistance: an outside bathroom, so you could shave, shower and wee under the palm trees and the stars. It was like going to another world.
All the tension and grubbiness of the last three days lifted in an instant. We went snorkelling in the lagoon and were surrounded by hundreds of fish (Paul even swam with a little shark), I finally gave in and went Kayaking in a tandem canoe with Paul (but he can't work as a team, our paddles were every where) and we laid peacefully on our sun-beds as the sun sank into the lagoon and a school band from the village played their repertoire of two songs on ukuleles.
It was a perfect day and ended our South Pacific odyssey on a high. And now we're going to be flying high down under to Oz. Next blog we'll be saying G'day from Sydney! Ia Orana Polynesia...