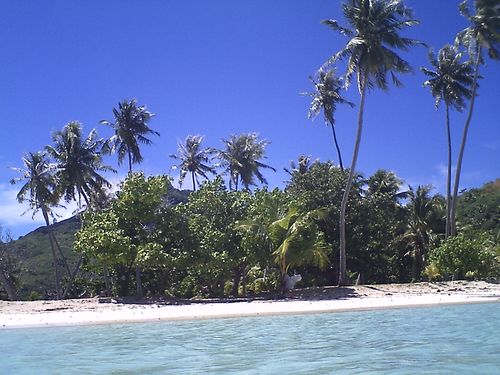 51 days until we come home, 357 days since selling up. David Jones recording.
Oh my God! We are tired, which sounds daft because we have not worked for a year, but actually travelling the seven seas can be pretty tiring. Living from a suitcase and moving on every few days or maybe after a week takes it out of you. But the joys of arriving in new places and meeting new people help perk us up.
Maupiti is one of those 'perk-up' places despite my reservations about going there – compulsory half board and not feeling as independent as in other places we've been, there really isn't much on the island.
We flew from Tahiti on a tiny little plane (bit like Fantasy Island) and arrived on this isolated isle to be greeted with Tiare lei garlands and the stunning view of a dramatic rocky island bobbing in a perfect blue lagoon. And then we were whisked off on a speed boat across the water to our home for the next five days.
We were staying at the Pension Tautiare Village run by Dawn Domingo, her boyfriend and family. We had half-board and Dawn did her best to keep us fed with her staple diet of rice and fish with the occasional delicious chicken curry. We did try the traditional Tahitian specialty – Poisson Cru – but it is raw tuna in a salad and although it tasted alright neither of us can really cope with the texture and idea of raw fish. As George Takei recently tweeted, the Japanese are still laughing at how the gullible world has gone mad for sushi.
There was a warm welcome from Dawn and her family throughout, which even included a special mega-gateau for Paul on his birthday with a candle to blow out, and being invited to her family picnic out on the desert island motu near Maupiti's coral reef, where we saw sting rays make love – how romantic, or rather how splashy!
We had a relaxing time. The first day we borrowed a couple of bikes and cycled around the island. Most mornings we walked along the coast through wooded trails and along sandy coves to the best beach which sits on a perfect and shallow blue lagoon. One day we met an octopus, another day Paul almost bumped into a conger eel. But by far the most amusing morning was when we sat watching a lady trying to serenely float in the lagoon while being pestered by a little black dog who wanted to play with her and wouldn't take shoo for an answer. She would splash and splash but he kept coming back when her back was turned. At one point three other dogs set off from the beach doggy paddling over to join in the fun. But the lady was not for turning. After roping in a fisherman to try to get rid of the dog, eventually the playful little thing got the message and paddled off with his doggy friends.
The beach view was spectacular: the perfect South Seas turquoise blue lagoon, unfortunately it was only knee-deep so great for a bob, but not so good to swim in. But it's surprising how many happy hours you can spend bobbing in a lagoon.
So despite my reservations we had an enjoyable time in Maupiti and appreciated its natural beauty, although we've moved on now and it is amazing what comfort it is to have a kettle in your room again. But more on Bora Bora next time. Till then ta-ta!