158 days since selling up.  David Jones recording.
We took our final ferry or seacat from Naxos to Mykonos.  The journey was a bit bumpy because it was a windy day and although it was only an hour and a half journey I was pleased to get off as I was begining to feel a bit queasy.  Once on dry land we were greeted by the owner of our next hotel who had come to meet us from the ferry in her batterred van.  Though this was not an exclusive trip, others had also arrived on the same ferry.  We were bundled in the van and made our way through the whitwashed streets up high above the town with our driver occaisionally pointing out that these (steep) steps leed straight to hotel.  Trying to convince all on board that the hotel was nearer to the centre of town than it really was.  As it turned out it was a gentle 15 minute walk down to the town and a heavy 25 minutes back with stops along the way to admire the view or was that just to catch our breath.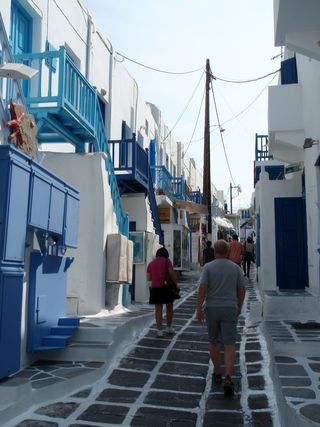 Mykonos is a pretty island.  White washed houses with blue wood work.  It was the home of the Shirley Valentine film. We were there at the end of the season and it seemed a bit tired and shabby.  The island was also famous for its gay clientele but that all seemed a bit dated now and really just encouraged people to charge more money for nothing special.
Once we had a car we were able to explore a bit more of the island and eventually found an unspoilt sandy beach.  Many of the famous beaches were set up with rows of sun beds and umbrellas.  They were also fenced in so that the only entrance was through the trendy taverna, kitted out with shabby chic sofa and chairs with white cushions and flowie curtains.  To me they resembled faded 1980's gay discos.
If you go to Mykonos take the time to get a ferry and visit the mystical island of Delos.  Here you will discover the ruin of an ancient holy greek city, with temples and houses and the famous row of Delian lions that look like monkeys.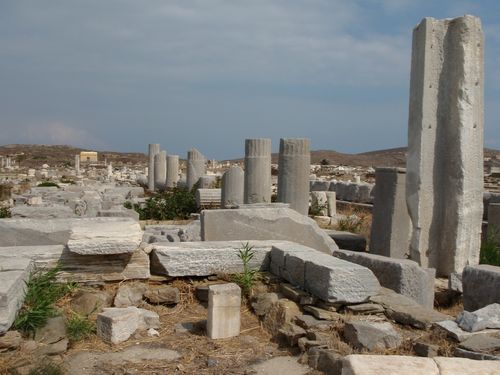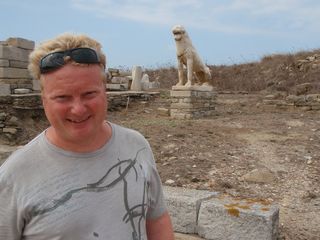 Heres a picture of me with one of the lions.
We had a nice time on Mykonos. Paul would write in the morning and we would go to the beach in the afternoon.  All very civilised!
We are now back in the cold and rainy UK, but making plans for the final stage of our journey.  We go to the Americas and then on round the world from the 1st November.
I leave you with the sunset view in Mykonos from our hotel. Such fun!