306 days since selling up, 102 days until the grand return. Paul Twocock recording.
I can still smell the putrid eggy smell that seethed all around Rotorua. All the volcanic thermal pools had names like the dragon's breath, the witch's armpit and the devil's arse and it was easy to smell why. But we held our noses and set out to get up close and personal with one of the most volcanic regions in the world.
First stop Wai-o-Tapu Thermal Wonderland: and it was pretty wonderful.  It started with the very impressive Lady Knox Geyser. The park helps it along by triggering it at 10:15 every day – we were late, but it was still going and we had the place to ourselves.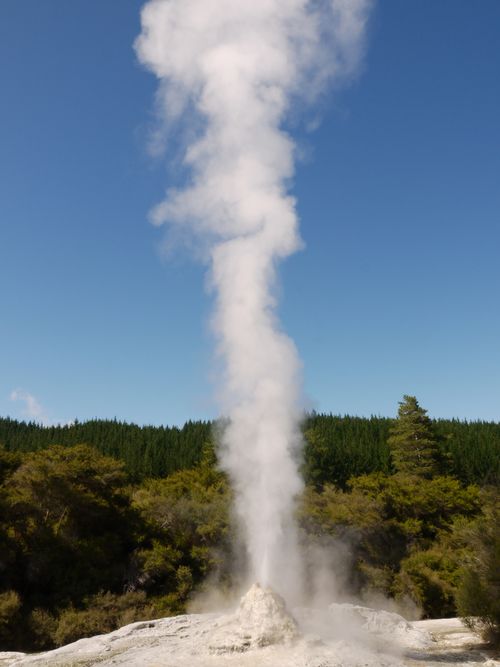 Then we moved onto the craters of sulphurous boiling water – a mix of different diabolical colours: orange, yellow, green or oddly grey which sat alongside giant cauldrons of bubbling mud. There were waterfalls of boiling water, and the very pretty but just as stinky champagne pool which had a bright orange rim and boiled like it was a freshly opened bottle of champagne.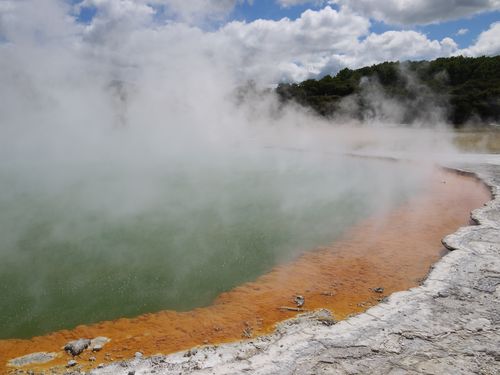 The volcanic trek ended in a flourish at the Devil's Bath – which as you can see in the photo is a hellish bright yellow-green with a stink that made your hair stand on end!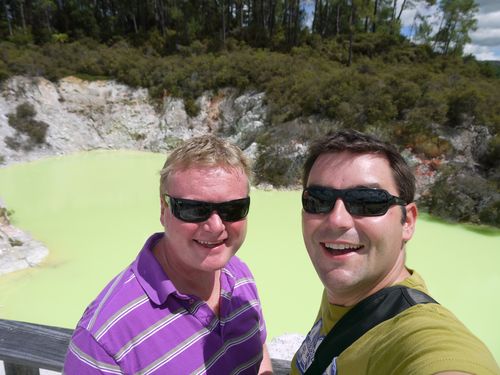 After Wai-o-Tapu we went onto the site of a devastating eruption of one of the region's many volcanoes. On 16 June 1888 Mt Tarawera exploded raining down ash and fire across a wide area and burying a popular Victorian tourist haunt – the village of Te Waiora. Some of the buried buildings have been excavated so you can see ovens, walls, lava covered whisky bottles and the like – although the most interesting bit was to hear the stories of those who survived and those who perished on that terrible night.
As a relief after all the disaster stories you get to wander along a stream-side path and into a valley with the most fabulous waterfall. And to top it all end up back at the buried village café for Devonshire cream teas (I kid you not – this is New Zealand after all – though the cream was not clotted!).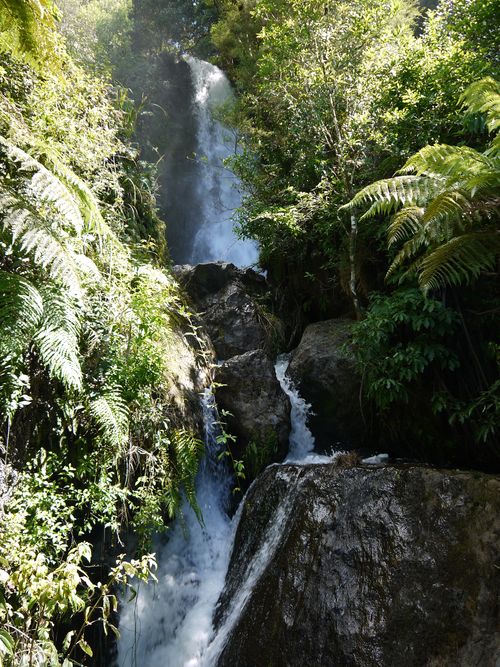 Our final stop on our volcanic tour was a bit of a let down. The famed (well in all the adverts any way) Pohutu Geyser failed to rise up to 30m, but did do a bit of a half-hearted spray for us, you can see it in the album. As a compensation the very expensive park which includes the geyser also has a Kiwi house and we got to see our first Kiwi – they are a lot bigger than you would expect and even stranger than you would think with a huge yellow beak and a big fuzz of fluffy feathers.
After two days staying in the stink we had to leave, not just for some fresh air, but also because it was Art Deco festival time at New Zealand's capital of Art Deco, Napier. Spiffing report of all that went on will follow in the next instalment. Cheerio chaps!