Hi-de-hi campers! Two for the price of one today, we're trying to catch-up so you get our adventures as they happen.
After a lovely sunrise at our ocean side pitch in Kaikoura we drove up to the peninsula to look for seals, but only found one. The colony must be on holiday.
We then set off inland to Hamner Springs, a thermal resort in the mountains. We did not partake of the waters when we arrived, mainly because it was a hot Sunday afternoon and it looked more like Wet'n'Wild  in Orlando than a luxurious thermal spa experience. Though we did have a champagne supper at the campsite: as Julie London says 'chilli con carne and sparkling champagne…'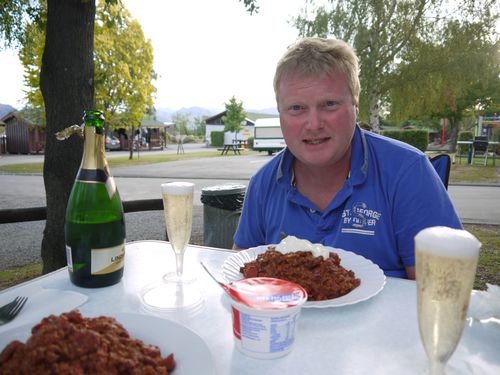 The next day we headed through the Southern Alps to the West Coast. On the way we looked for a picnic spot, but they mainly looked like lay-bys. Eventually we came across the Brunner Mine, an old New Zealand coal mine and heritage site. Famous for its restored bridge across the 'Grey River' – that is its name (and it lives up to it). If I'd have known there was a flushable toilet on the site, I wouldn't have used our porta-loo before we walked down to the bridge. The joys of campervanning; remember its only number ones though!
We continued down to the seaside town of Hokitika. Found our pitch for the night, next to a milk factory this time. We then went for a stroll along the waterfront to sunset point. But alas this is the land of the long white cloud, so there was no sun to be seen, but Paul did find a relaxing spot, see the pic below. Strangely enough we had a wonderful supper at the Café de Paris.
Anyhoo, look at the pics in the album, there are plenty. More tomorrow!