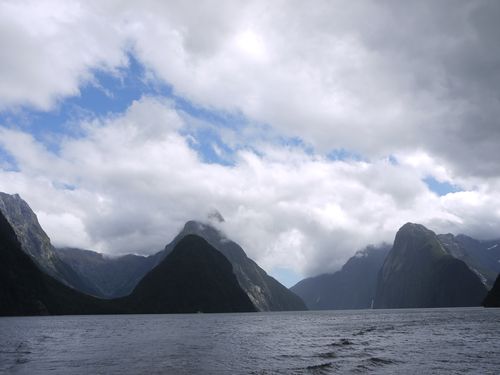 Hi-de-hi campers! Wow, what an amazing day - but before we tell you all about it, we have a confession to make. Yesterday we told you about the three Ws to make you a happy camper - well, it's true it is good to be ship-shape, but sometimes it's even better to forget about the chores and drive straight out onto the open road before anyone else in the camp has stirred. We did it today and it makes you feel just a little bit naughty....
The reason for the early start was to get to Milford Sound before the coach loads descended, and it worked. It's a two hour drive from Te Anau to Milford Sound, the only NZ Fjord accessible by road. The drive is amazing: mountains, lakes, forests and having rained all night (again!) waterfalls cascading through the mists thousands of feet down the mountain faces. But the drive was nothing compared to the Fjord itself.
Huge, towering peaks lining a narrow passage to the sea. It was a fjord of a thousand and one waterfalls - but alas no Vikings (anyway the New Zealanders spell it differently - it's a Fiord). Everywhere you looked silver, misty lines of water tumbled down sheer cliffs thousands of feet tall. Larger waterfalls crashed loudly into the sound, and the boat nudged right into them so if you wanted to you could stand under thousands of gallons of water - neither of us did, although we got semi-drenched in the crashing mists.
Along the way we saw New Zealand fur seals - all posing for photos, have a look in the photo album. The whole two hour cruise was just stunning. And then we had the drive back to look forward to. By now the sun was shining through, and the sound had one more surprise for us. As we waited to go through the one lane, scary, rough hewn tunnel back to the main highway (still a windy two-lane road) a Kea jumped through the bush and started waddling down the road! It's a rare parrot, the only one in the world to live in an Alpine climate. It seemed very interested in all of us in the traffic queue - photo in the album.
The day was completed with a long, very scenic drive to Invercargill via a lovely picnic stop by a river. It was all fabulous.
Anyhoo, must dash episode of Doctor Who to watch before lights out. Night, night.