Hi-de-hi campers! 
Well we survived a windswept and rainy night at the rainforest retreat. Kiki shook like we were on the high seas. The good thing is we managed to successfully unscrew the fresh water cap and left the camp with a full load of water. And this time we also managed to completely empty the waste water tank for the first time, hoorah! 
Our first port of call this morning was the Franz Josef Glacier. We had to dodge the torrential showers to get there, and walked through a canyon of hundreds of waterfalls to the glacier's edge. The whole thing was jaw-dropping.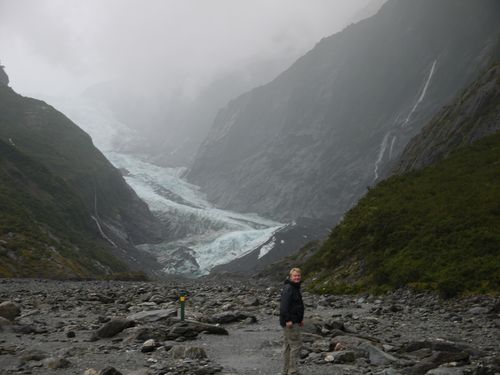 Next stop was Fox's Glacier, the home of the mints - but we saw no polar bears. After another tramp through a canyon to the edge of the glacier and back we set off on our four hour drive to Wanaka through some of the most beautiful scenery New Zealand has to offer. There were peaks covered in rainforests and waterfalls, raging rivers, windswept beaches and eventually we emerged alongside huge, bright blue lakes that made our eyes water. See the pic below and more in the album.
We finally got to Wanaka in the early evening, picked up some sausages and beans and had a lovely tea of bangers and mash. The stars are out and it looks like we'll have a quiet night not tossed and turned by the wind and the rain.
Anyhoo, more tomorrow. Sorry about the delay on uploading the full photo albums, but please keep checking we'll get them on as soon as we can. And have your twopenneth - let us know what you think. Night, night.