Hi-de-hi campers. Slight disaster today, for some reason we couldn't get the cap off the fresh water tank. Luckily we're still half full at the moment. We're hoping when we try tomorrow it will work.
Though we had a shaky start, things looked up as we headed for the Kaniere Scenic Reserve. We came across the aptly named Dorothy Falls – both these Dorothys are still standing.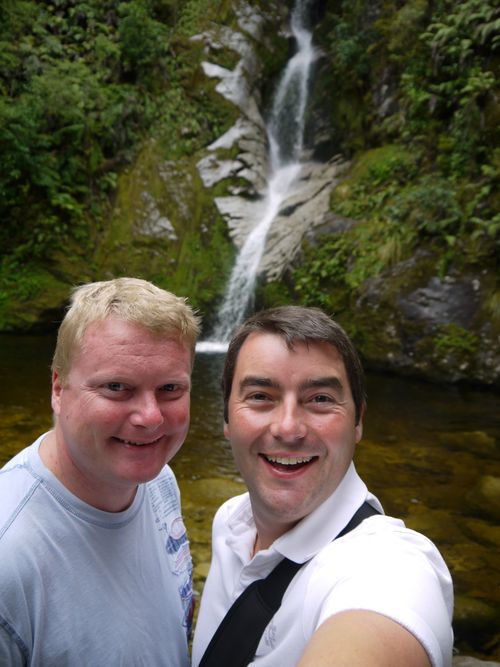 We also explored the Hokitika Gorge with its famous turquoise river and rope bridge. It may have been the cloudy day but the water looked more grey-blue than turquoise. What do you think? There are pictures in the album.
We then headed through increasingly heavy rain to the exciting sounding Franz Josef Glacier township! We found a lovely pitch at the Rainforest Retreat, the picture below shows us in Kiki retreating in the rain.
Anyhoo, off to see two glaciers tomorrow weather permitting. Right, you are up straight now, you'll be experiencing our adventures as they happen. Don't forget we are a day ahead of you, we're off to bed when you are waking up to the day we've just had. Got it?