281 days since selling up, 127 days until the grand return. David Jones recording.
Aloha! We have had a fabulous five days on the south shore of Mau'i. Hot sunshine, tropical breezes, romantic sunsets and walks along miles of sandy beaches: that's what the south shore is all about.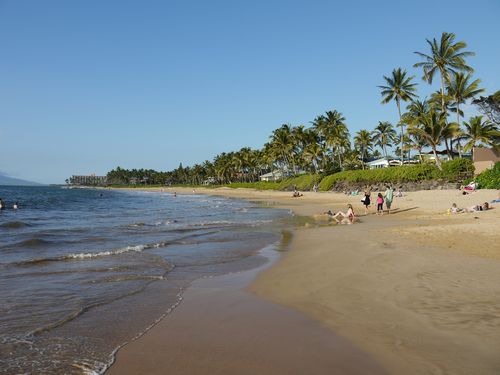 At this time of year though there's an extra something to keep your eyes gazing out to sea: the warm waters of Mau'i are the humpback whales' favourite winter destination. And if you're lucky you get to see them leap for joy - right out of the water. I was lucky, I got to see loads of leaping whales, unfortunately my lovely travelling companion - the one with the expensive new camera and zoom lens - kept missing them. But in Mau'i it doesn't matter, every day's perfect anyway. The best whale picture is in the album - blink and you'll miss it. Though he did get a movie of one jumping in front of the sunset - which was pretty spectacular. Though I haven't seen this movie yet, I'll let you know....
Anyway one of the best times for whale watching was in the morning. After a long beach walk, we'd settle down at the Lau Hala cafe for a Mocha Frappacino and one of their gorgeous Blue Merry Buffins and look out to see if any whales had come out to play.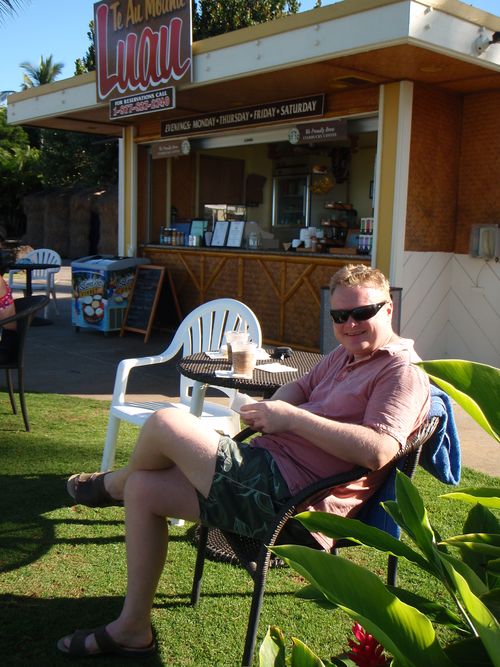 We took a day out to the old Hawaiian capital and ex-whaling port, Lahaina. It's a lovely town full of weather-boarded houses from the nineteenth century, sitting wedged between the high, spiky slopes of the West Mau'i volcano and the sea, under swaying palms and with one of the largest Banyan trees in the world. Of all places it was here that we found out the secret ingredient of Butterbeer. It had been haunting us since tasting it back in November (see the Florida blog). By chance we picked up a free sample of shave ice - which everybody raves about in Hawai'i - and it tasted exactly like Butterbeer. We went in to buy one and found out the bright green concoction is called Mellona flavour. Still don't what it is but it was lovely and it is definitely what Harry, Ron and Hermione have been drinking. We also came across our first lava flow in Lahaina - though it was one of a more alcoholic than geological variety.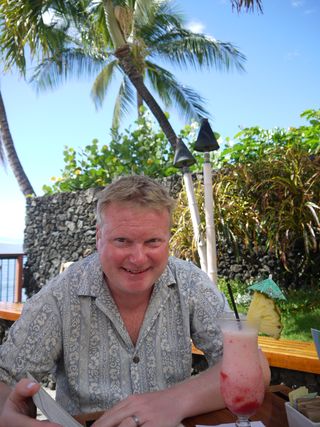 We did find a real lava flow right at the southern tip of the island at La Perouse Bay. Dark, dark fields of black rock rolling into the ocean forming lots of lovely little cove beaches, one of which we claimed as our own. Our other favourite beach was Little Beach where you could see lots of a completely different type of Blue Merry Buffin, but I'll leave that one to your imagination.
We'll leave you with the perfect end to a Mau'i day. Such fun!