1 day until we come home, 1 year, 1 month and 12 days since selling up. David Jones recording.
We had a fun-packed final night in Sydney. I don't know whether they were pleased that we were leaving or sad to see us go, but they had lit up the whole city in a spectacular laser light display for our final night in Australia. But, actually it wasn't us at all: Sydney was celebrating its annual Vivid winter illuminations festival.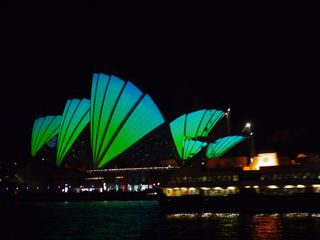 After a fab night running around Circular Quay looking at all the lights we woke up early for our flight to Singapore on a double-decker bus. Sorry, Paul just corrected me, that's an A380 superjumbo for all you geeks out there. And we had seats on the top deck fulfilling one of Paul's dreams. My first impressions of the plane were, in the words of Lily, "Big Door, Heavy Door!" (You-tube Lily and Pam Ann if don't know what I'm talking about.) Sadly we were only sitting in economy, but we had real glasses to clink and silver cutlery and we started our journey with a Singapore Sling. Though I was very disappointed by the size of the toilets, just the same as any old plane, you would have thought they would give you a bit more space on such a big plane. Anyway enough about that. 
We arrived in Singapore and spent a hot and steamy day seeing all that Singapore has to offer. First stop the Buddha Tooth Temple in Chinatown, where the monks and novices were chanting.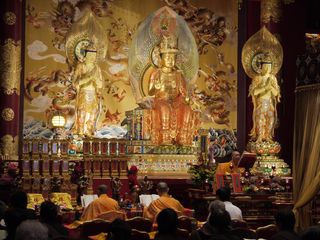 Whizzed past the Hindu Temple and then after a Starbucks pit-stop (it was really hot!) on to the famous Merlion statue, the symbol of Singapore: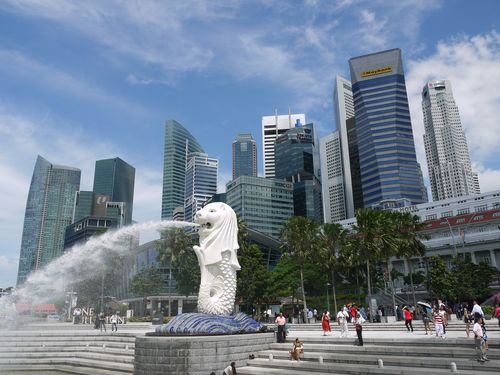 Then we made a wish at the Fountain of Wealth (it's the largest fountain in the world apparently) before popping in at the Raffles Hotel, the home of the Singapore Sling, Yum! You could imagine Noel Coward whiling away afternoons here.
And that's it. No more sightseeing to do. Plane tomorrow back to the UK and I'll be writing a final blog once I'm over the jet lag. Ta-ta for now.