308 days since selling up, 100 days until the grand return. David Jones recording.
We had a whistle-stop two days in Wellington to conclude our tour of the North Island. We had only just arrived when the earthquake hit Christchurch, which was an awful shock for everyone. We spent some time watching the news with the rest of the city, but being able to do little, we set out to explore Wellington nevertheless.
We started with what became our favourite place in the city - St John's waterfront bar/restaurant. We had lunch there both days in a stunning art deco building. The food was superb and the interior stylishly reproduced the 1930s era. It was so good I even tweeted Sir Ian McKellen about it as he said he'd just arrived in NZ to film the Hobbit. Let's hope he takes my advice and get's to St John's when he has a break in Wellington (no news yet...)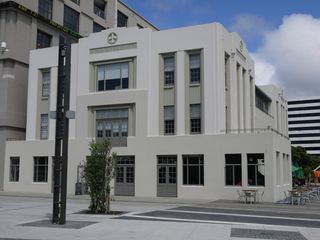 On the next day we explored further afield riding the old red cable car up to the botanical gardens on a hill overlooking the city and the harbour.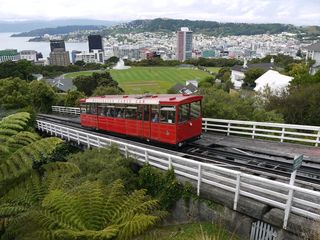 On the long, windy, ferny walk down from the botanical gardens back to the city we strolled through the old graveyard (half of which has disappeared under a motorway, just like Auckland!) and saw the colonial houses of nineteenth century Wellington including somewhere in amongst them the birthplace of Katherine Mansfield - famous author. Have you heard of her? I hadn't. I might add the literary guru travelling with me said he knew all about her, but had to admit he hadn't read any of her books.
We then had a fun-filled day exploring the rest of the city including the national museum of New Zealand, Te Papa. Where you can walk through NZ bush, see a giant squid, see and listen the stories of the Maoris and how they came to Aotearoa as they first called it, and of the British and other settlers in the nineteenth century. We also captured our first photo of a Kiwi, sadly the trick is to have them dead and stuffed in a glass cabinet. Photos from the museum and other sights are all in the album.
We leave you with the view as we sailed out of Wellington Harbour on the Interislander ferry heading for the South Island where our camper van awaited. Look out for daily blog updates from the camper van - wifi permitting. Bye bye 'til next time.