286 days since selling up and 122 days until the grand return.  David Jones recording.
Here we are on the big island of Hawaii, sitting in the laundry room of the hotel doing our washing: travelling can be so glamorous.  What to say about the big island? It's big, has five volcanoes and in our short time here we have driven over one thousand miles.  Which has been great fun in our Jeep Wrangler convertible, meaning we could get some sun whilst driving around.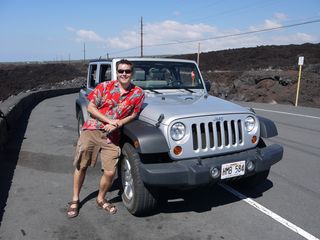 The only mishap we had was when we arrived at the hotel we surprised the car park attendant by pulling into the car park and stopping at her booth on the wrong side of the road.  She looked at us strangely and politely said "Aloha".  It was at that point I realised as the passenger I shouldn't be sitting next to her and we all laughed.  For the next 8 days every time we drove in and out she shouted and waved at us "Hi, it's you again!"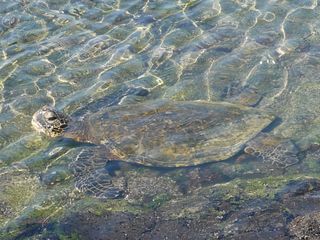 Our second day was turtle-tastic. We discovered a bay with many rock pools and in each one were 2 or 3 turtles.  At first we were looking for tropical fish and then started to notice these large rock formations in the black lava pools.  Very slowly as your eyes became adjusted the pools filled with turtles.
We also went to one of the active volcanoes on the island in search of real lava flow and discovered more than we thought...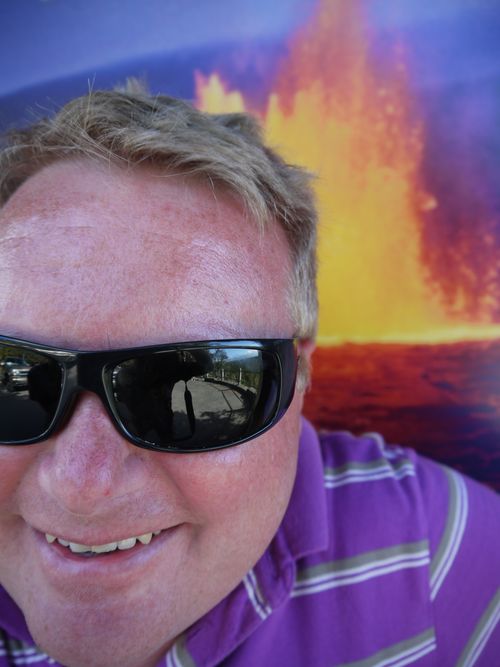 Well, ok that's me standing in front of a picture board at the volcano park.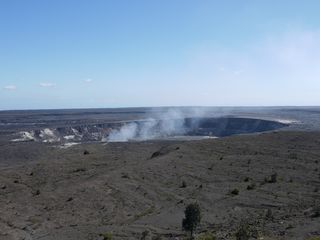 That's what we had hoped to see, if fact there was no bubbling molten rock the day we went but we were treated to a strange mysterious landscape where lava had flown from previous eruptions.  We did see one of the active craters which had smoke pouring from the top, but unfortunately no fresh lava flow. But the whole landscape was quite magical and other-worldy.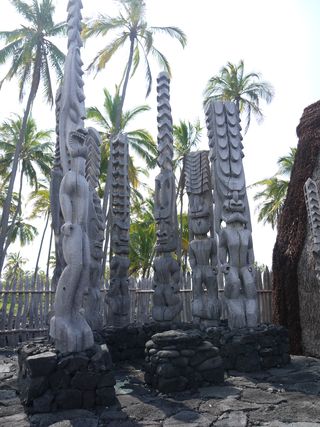 One of our favourite places to visit was the sacred "place of refuge" a partial reconstruction of palace grounds and temples of the kings and queens of ancient Hawaii.  It was just so peaceful and spiritual.  A lovely place 
We also took a journey to the east coast where we saw amazing waterfalls and rugged coastline.  Some of the recommended sights didn't live up to their name, like the boiling pots, which when we saw them were just small rock pools with still glass-like water, hardly boiling over.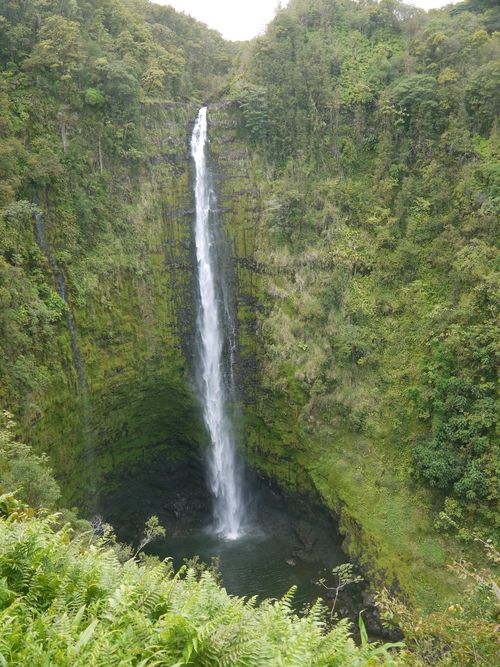 Every night we have seen amazing sunsets.  Creature of habit that I am, I have found my own particular spot at a local restaurant which we have eaten at as many times as possible and always tried to get the same table. Oh yes! We have a cocktail to start: mine was, of course, a Bahama Mama while Paul preferred a '57 Chevy with Hawaiian plates.  We will tell you the recipes when we get back.
We are flying off to Honolulu tomorrow the home of Hawaii Five-0 and our third Hawaiian island this trip.
I will leave you with a sunset from my spot at the Kona Canoe Club. Toodle pip!