307 days since selling up, 101 days until the grand return. David Jones and Paul Twocock recording.
'You're the cream in my coffee, you're the salt in my stew. You're a necessity, I'd be lost without you!' It could be the theme tune to our whole world tour, in fact it was sung from the Shell Sound Stage on the waterfront in fabulous Napier during the heart of its decadent hoorah for all things 1930s - the Art Deco festival - and we were there to see it all.
We were in our element. Having secured one of the last three rooms left in Napier for the weekend, thanks to a midnight online booking cock-up by one who shall remain nameless (it begins with a Two and ends in a cock) we reached the seaside city of Napier just in time to see hundreds of 1920s and 1930s cars poop-pooping along Marine Parade.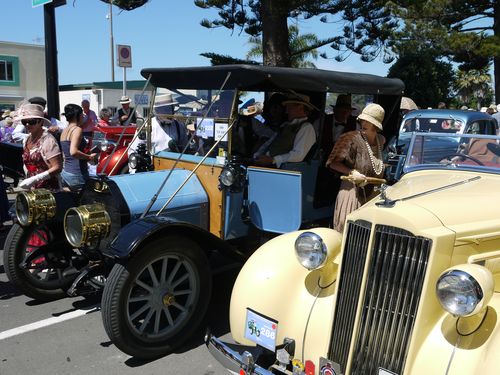 The cars, the streets, the cafés and the parks were all full of people in flapper dresses, 1920s summer wear and curiously a lot of Al Capones. A swing band skipped through rag time greats on the Shell Sound Stage and we all danced until the moon lit up the ocean.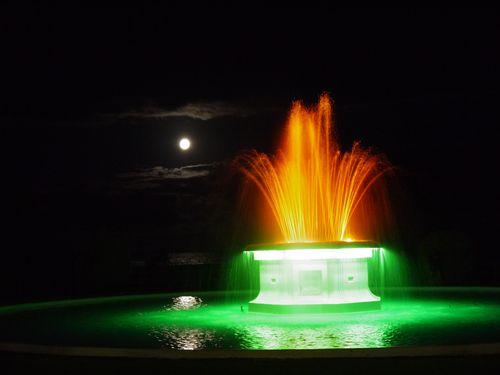 On Sunday there was a Great Gatsby picnic all the way along the seafront, where the flappers and the aristos of New Zealand tried to outdo each other with the best picnic gazebo. And afterwards some of the bravest went for a late afternoon swim.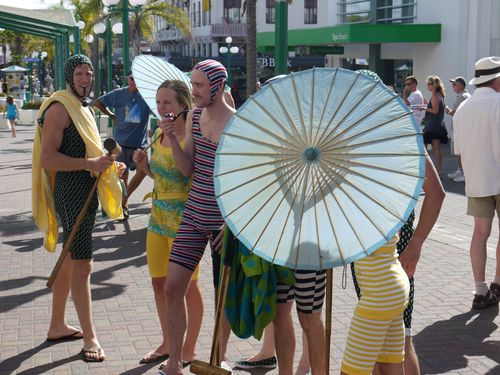 We had definitely come to Napier at the best weekend possible, all its art deco splendour came alive; you could just about imagine you'd gone back in time. There are a lot more photos in the album, take a look!
But after drinking lots of martinis and supping plenty of champagne we had to poop-poop ourselves back on the road and head south to Wellington, New Zealand's capital, and our last stop on the North Island.
But before we got there we found time to stop off to see yet more old cars at the Southward Car Museum. There were an old London Taxi or two, Marlene Dietrich's Cadillac, but for Paul the star attraction was the futuristic car from his favourite Woody Allen movie: 'Sleeper'. Well he got very excited anyway: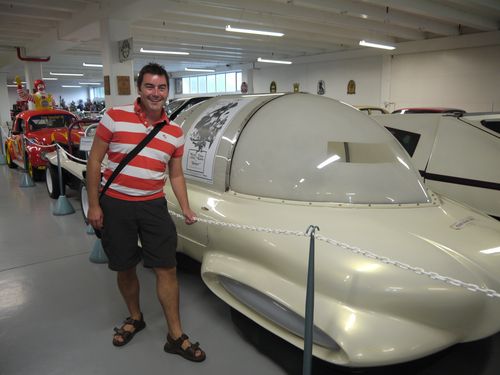 All-in-all it we all had a spiffing time in the Art Deco capital of the world (well that's what they say!). Toodle Pip all!